While doing some online browsing...sourcing... and shopping, I stumbled upon an amazing, comical yet mastermind jewelry jewelry line known as
Defiles From Paris
.. The parisian based jewelry collection
"pays tribute to the trends of yesterday and tomorrow, those who wear them and those who create them…Jewelry silhouettes where the city girl cross the hazy blond night owl early morning and the gypsy with temperament !"
.. Really all I see are fun lollipop like version's of fashion's most frugal individual's designed from some of the finest earth stone..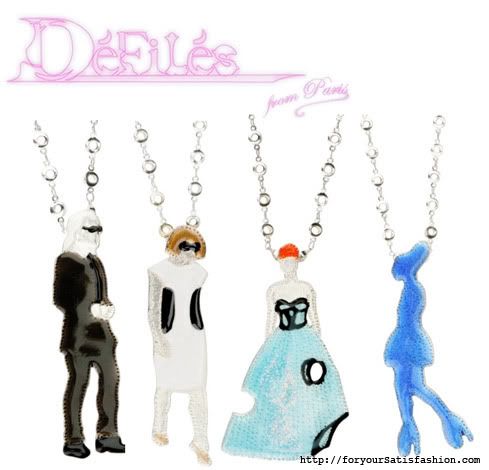 Karl Lagerfeld, Anna Wintour, Viktor & Rolf, Alexander McQueen
Fun, cute and very entertaining. Defiles From Paris pieces are very well prices!! (Definetly not what i thought they would be).. Listed at
$157.86
on
Luisa Via Roma
one of these little puppies would make the most amazing present for your favorite fashionable friend, or you!
Check more of them out & shop the collection at
Luisa Via Roma