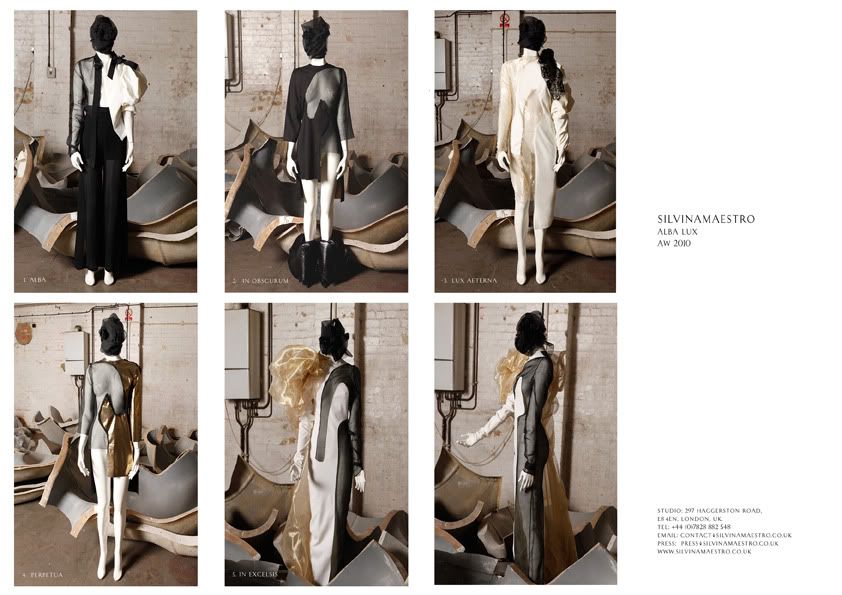 Silvina Maestro graduated from Central Saint Martins and was immediately offered a job at Givenchy in Paris were she designed all the jersey garments for the prêt-a-porter, assisting designer Riccardo Tisci. She also worked for Nicholas Kirkwood and Emilio de la Morena ; as work experience with Boudicca and had the honour of completing a long internship with Alexander McQueen.

Called "Alba Lux", Silvina's first collection was inspired by the art concept of "Vanitas" and Dutch still life from the 16th and 17th centuries. Most still life paintings have a strong sense of the futility of beauty and things before the existence of death. Things that are highly regarded such as art, possessions and knowledge are felt as ultimately futile as all is lost with inevitable death.

The beauty depicted in the sensualistic pictures is in conflict with the moralistic message of "Vanitas" and this lead to juxtaposing conceptions like beauty and ugliness, light and darkness, the physical and the metaphysical, the body and the soul, the past and the present being explored by the designer.

The materials expressed the concept in an almost semiotic way. The transparency of the silk organza, the double sided matt black/ shiny gold lame and the solidity of the wool jersey where used as metaphors for this contrasting ideas.

The semi-reality nature of see-through fabric was explored and some pieces seem to shed from themselves, just like the soul would, like the essence of the self leaving the body at the moment of death.

The colour black was used as a symbol of mortality in the tradition of the "Memento Mori"; gold as a symbol of a possibility or hope for salvation and divinity, and white as a remembrance of how light can overcome night and turn it into a bright day. Antique lace was also used in relation with mourning garments as well as to contrast the use of new fabrics.

Also influenced this collection the idea of transition and transformation from one state to the other, some garments seem to metamorphose into others, the old into the new, and the dark into the light.