One of our favorite & fashionably sustainable
stores & design houses
Preloved is having a sale!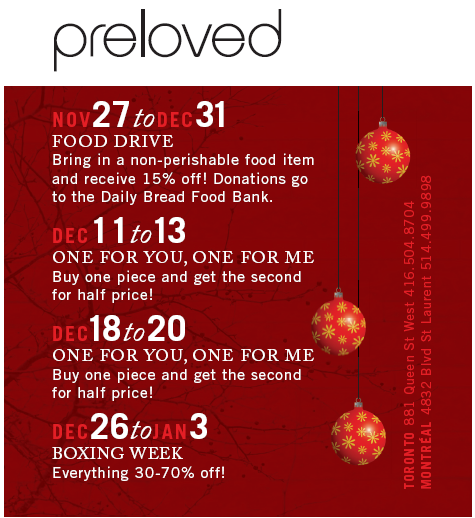 If you are unfamiliar with
Preloved
here is their profile..
Preloved creates one of a kind clothing from reclaimed vintage fabrics. Our passion is design and our philosophy is sustainability. Attention to fit, comfort and style has been our driving force.

Founder Julia Grieve and Creative Director Peter Friesen have made their mark on fashionable Queen Street West in Toronto and Boulevard St. Laurent in Montreal. The newest store, Handcut by Preloved opened in Sydney, Australia in 2007.

Preloved has expanded into the wholesale market worldwide. Our designs are carried in stores across North America, Australia, Europe and Japan. We have also proudly reopened our flagship store further west on Queen Street West in Toronto, after the original location was lost to a massive street fire in February 2008.

Devotees of Preloved include models, actors and musicians such as Angela Lindvall, Hillary Duff, Maria Menounos, Anne Hathaway, Christine Horne, Kate Hudson and Daria Werbowy.