Louboutin x Rodarte is that you?
I first asked myself.. Then came to the conclusion
that this was a whole nother level of studded heel..
Safety goggles, check!!
I love the sense of animosity and rebellion when i look at these..
A couture punk rocker is the first thing i think of..
And obviously Topshop would be one step ahed of the game!!
There are sOo GaGa..
I cant wait to see her rocking these sooner then later lol..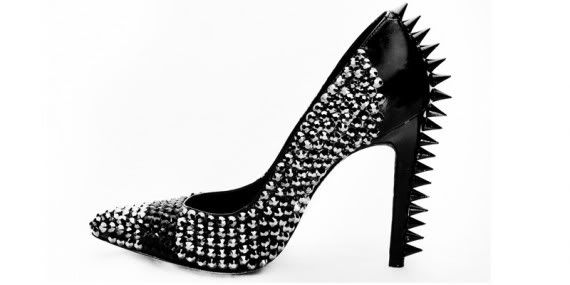 Another reason i find myself captivated by these kickz
is the color.. Or lack of i guess would be a better term..
THe shades of gray, black and white are the greatest asset
to these studded masterpieces...
I really wish they made a patent leather alexander wang jamie bootie like shoe
studded like this.. I would die on the floor & not hold back from breaking
the bizzank!! woo...lol..