Once thing i love love love to see on a runway is genuinely positive energy.. When you know its actually going to be fun.. And i know Sonia isnt doing any BJ cartwheels down the runway but its ok because i think i love whats going on here!! haha.. I love when fashion comes to those who least expect it.. In Sonia's case it all started in 1962... She just couldn't find any soft sweaters to wear when she was pregnant. So she used a supplier to her husband from Venice to design her own... And voila.. 40 years later she is still making things that have more character then the bugs bunny & tweety show!!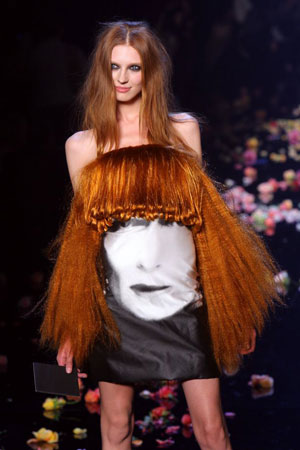 Now i am sure the vast majority of you know or dont know that Sonia Rykeil is
now going to be the next heir to the very embraced H&M designer team up and now take
where Jimmy choo left off..
I understand she is only to be making lingerie and knits which sounds good and
what not.. but after i saw these sequence pieces i couldnt have it!! As you all know
i am a sequin fiend and have a sick obsession with things like such.. But the sad
thing is that to this day i do not own one thing which is sequin.. I put a lot of
blame on the Canadian buyer/shopper & market on this because they fear that men
will not want to take their sense of fashion to this next step,
that maybe it may be to flamboyant or un-suiting to the events, situations,
get-togethers, parties, this and/or that which the Canadian man's life may entail.
Hey.. no offense but that is just me.. They only carry certain things at certain
stores in certain locations because they dont "feel that it will sell, or will
sell easier" if position properly.. WHATEVER!! Gucci, Valentino & Alexander Wang
deserve to be spread to everyone, & for everyone to enjoy!!..
Anyways look i went off topic again.. But back to where i was!!
YESSS
.. i do not want to have let an excellent designer like Sonia Rykiel, dim down or limit herself and her designers to a certain market or style when she teams up with H&M.. I want to get as much Sonia Rykiel as possible.. I already missed the boat with the Jimmy Choo triple buckle boots and i dont intend on missing anything else .. EVER!! haha..
The reason why i am so passionate about Sonia Rykiel expanding her collection for H&M is because, when i see fun thins like this crazy, funky, insanley cool hairy top it gives me such a thrill.. And unfortunately i can only experience this thrill via a computer screen.. I know not everyone could have the state of mind to want this or feel they have the ability to pull this off.. But the truth is.. They do & they can!! People just need to give more things a chance.. Everyone says it.. and now im giving into the typical & cheesy cliche that.. You can do whatever you want it you put your mind & sense of style to it!! lol... So yes.. lets just hope that Sonia Rykiel reads this and acknowledges that there are those whom want more then just something to sleep in!! haha.. I joke.. whatever she may be doing can not wait!!