As you guys know from a previous post..
Muriel Walker, known as the French Diva
also the self noted "Pretentious Bitch"
has always known how to make a buzz at an event
with some of those most beautiful and as we would
assume in todays world "over the top" outfits..
I say "in todays world" because if you think about
the reality of things... Extravagance was and minimalistic is
the sense of fashion in the past's most influential events..
Kings and Queens wear & wore diamonds, crystals, rubies and gemz
on their heads and shoes.. Women wore corsets to make the silhouette
more in line with the width of their neck then as their body..
ANYWAYS i got off topic.. haha... i had to stop myself before i continued
to ramble, ramble and ramble on!!
If you didnt know Muriel had the opportunity to write for New York Magazine
and i really wanted to share it with you guys because like Muriel i have had
a recent revelation and acknowledgement of my mothers attributions and movements
made by her not only for her but for her family..
& here it is..
-------------------
My Mother's Thimble: An Epiphany
My story will sound strange to you, as it does to me I must confess.
It is the story of an epiphany, the one of my Mother's Thimble.
It came to me earlier this year in France
where I was visiting my family for the holidays.
I was watching a movie about the life of the late Coco Chanel,
founder of the famous Chanel couture line in Paris.
The first scene shows Chanel as a little girl
sitting next to her mother who is sewing.
It is clear that the family is quite poor and the mother's sewing
is to support them. But the mother is sick and coughs constantly,
dropping her thimble under the table.
Little Chanel, whose name was still Gabrielle at the time,
picks up the thimble, slides it on her slender finger
and finishes her mother's work.
Years later the same girl,
now a successful designer named Coco Chanel
is still wearing and using her mother's thimble
to create the extraordinary collections we all know and love.
This thimble is my own peculiar epiphany because
it reminds me of another one, my own mother's,
the one she left here in Canada during her last visit a couple of years ago.
After a few years teaching French literature at McMaster University
I have started an unexpected new career in sewing.
I have traded my pen for a needle and my mother's thimble
is now on my finger just like Chanel's mother's on hers.
It started in a very simple way as I bought a Marie-Antoinette costume
that was only available in a small size and which of course had
problems passing my hips or hugging my breast. So I bought another one,
of different style and colours, and started taken them apart
to reassemble them like a puzzle. The result was a little unusual
but very much in the spirit of Marie-Antoinette herself.
I was also greatly inspired by the wonderful movie on Marie Antoinette
by Sophia Coppola and I kept the DVD running while I was sewing.
I then decided to do the same thing with the wig which I transformed
into an extravagant piece full of feathers, stones, ribbons, birds
and butterflies. I also made the fan, purse,
shoes and cape to match the whole thing.
I decided to try out my creation and I signed up for a
Halloween costume competition held in Hamilton and
to my greatest surprise I won first place.
To be sure that this was not just an accident
I went to Toronto the next night and
again won first place at the Mod Club.
This gave me the confidence to attend the fashion events Toronto
and show more of my creations there. This time I bought used
clothes from thrift stores like Value Village or Good Will
and I worked on them the same way I worked on the Marie-Antoinette costumes.
I literally take dresses apart and create new outfits
like so many puzzles on so many canvasses.
Fashion is a "hit and miss"
of course
and I have no doubt that I might look completely
ridiculous or overdone at times but it would be a lot more
ridiculous to me not to try anyway.
So I went and wore a different piece every day of the week
and yes I did get noticed, photographed and interviewed by the press.
One of the most common ideas about the fashion world
is that it is a very hard world to get into and it is
one of the most unkind and judgemental environment.
It is certainly true most of the time but in my case
I found a lot more acceptance and appreciation from
fashion designers, models and journalists than from
my previous academic colleagues.
My 15 years of graduate school seemed a vast amount of waste in light
of the disappointing results I got from it.
The fact that I am a middle-aged woman who is not a size 0 or 2,
with a normal woman's post-natal body didn't seem to matter in the seemingly
superficial world of fashion and glamour.
This gave me hope, not just as an aspiring designer
but also as a woman who finally gets recognition and
respect while being accepted and admired for her style and looks.
I am pretty sure it can give hope to other women in similar situation,
either older or not "model size" who do not have to mutilate
and punish their bodies as much as they think they
should in order to "fit in" as it is usually the norm.
To come back to my mother I feel her legacy is embodied
in the thimble she left for me without even knowing it.
This thimble is different from the kind you find in sewing stores
because my mother used it mainly to work on fur and leather.
It is thicker and heavier and hugs my finger in a perfect fit,
one I actually embrace and feel comfortable in.
It is strong enough to push any needle, sharp or dull,
through even the roughest of material. Just like my mother actually.
My mother never finished high school
and was sent to work in a fur shop at the age of 14.
Her only escape for her was to marry my father
who in turn abused her for at least 30 years coming
from a very macho Spanish Gypsy family.
My mother never got any diploma
or other pretentious and empty labels of academic success.
Yet she always loved to read, from soapy
Danielle Steele novels to the most complex works of French classics.
It pains me to think that
if she had had a little more formal education
she too could have written books, novels or even
bombastic useless academic articles like me.
She found a way to express her creativity through her talent as a seamstress.
I remember in particular the times when she made for me, my sister and my brother,
fairytale costumes out of crepe paper, without any pattern or model.
Every year we spent two months in a camping site
where they held costume contests.
The organizers would give out rolls of crepe paper
and everyone could make a costume for the evening of the same day.
In a few hours my mother was able to create the most complex,
detailed and magnificent costumes like Marquise dresses
(much like Marie-Antoinette), bullfighter outfits for
my brother, flamenco dresses, princes, pirates, kings
and queens and even musqueteers.
What were most astonishing were the details of these costumes.
The marquise dresses were embroidered with pastel
ribbons all made of crepe paper.
The bullfighter outfit didn't miss a tassel
or a fringe and the colours were all coordinated to perfection.
From her arthritis deformed fingers the most fabulous items
would spring to life in colours, grace and beauty that
could even outshine the actual outfits they were replicating.
And all that with paper, a needle and thread!
It was like magic,
like Cinderella's dress when it is made
by the mice and birds in the Disney movie.
She did the same things with Barbie dolls,
dressing them with wonderfully detailed dresses
and even fur coats.
Yet no one ever knew about it except for us
and being of modest origin
my mother never dared to show her work.
She reminds me of those unknown artists
or geniuses that are
only discovered after their death.
There is something else I received in this epiphany
which is a newfound respect and admiration
for my mother whom I have largely underestimated all my life.
I feel the need to embrace her legacy
and be proud of being the daughter
of an uneducated and abused woman who still
managed to bring beauty, grace and poetry into my world.
To my mother the unsung artist.
Muriel Walker
The French Diva
-------------------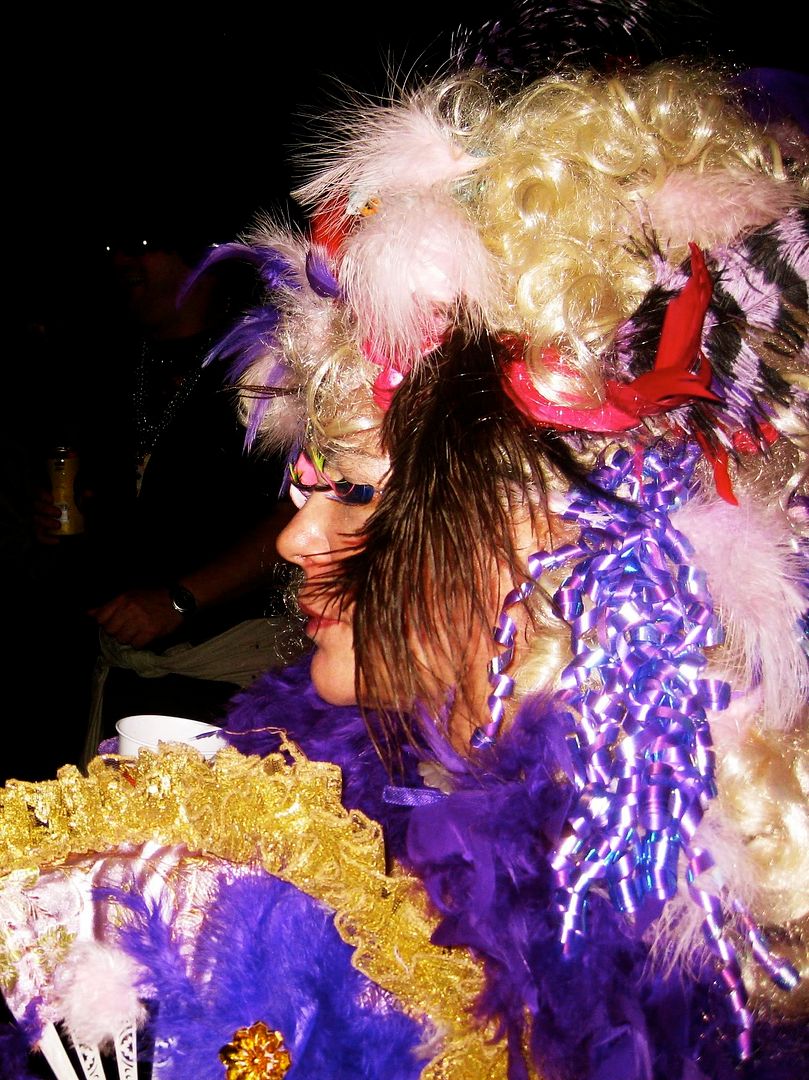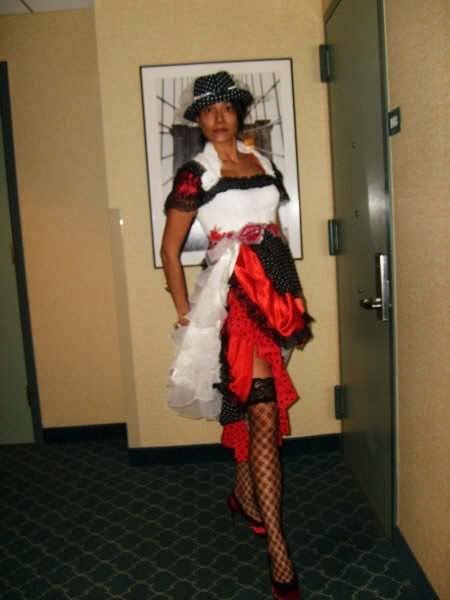 to contact Muriel Walker e-mail
melusine.muriel@gmail.com