There were beautiful lines, 500000 inch "things"
(lol)
, aquatically angelic prints, metallic sights, earthy tones, lovely layers, ruffles & slits.. It gave you such an eerie feeling to watch but such a havenely feeling to imagine... Imagine how beauitufl Anna Dello Russo wold look walking into a room with one of the pieces on.. Or how Lady GaGa will one day look on stagein the cokmpletely gold piece that closed off the show.. Simply.. RAVISHING!! lol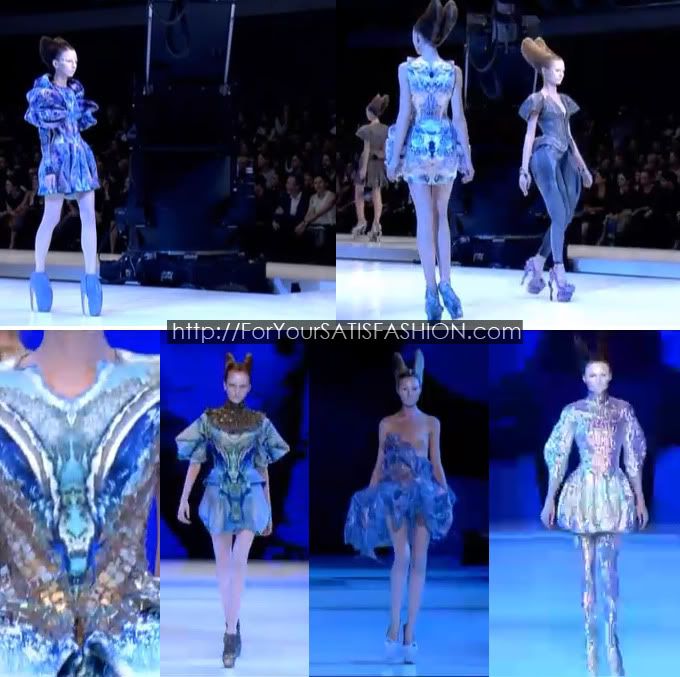 The themes changed graciously as the show shifted from the colors of earth to the underwater volcanic debri all the way to the waves & coral of the ocean. I dont know what it was, but Alexander McQueen has such a gift, there was just an ora that gave you such another worldy feel. The strutcture, silhouettes, cute and constrctions of the pieces were impecable, i saw alot of bubbly/poofy bottoms and fitted upper-halves.. I loved to see exaggerated waist's and shoulders.. My favorite section of the collection definitely had to be the blues, and corals, and all these aquatic colors.. The way they flowed and blended with the other colors & even the construction of the piece was flawless!
What a beautiful way to end off the show as Lady GaGa's newest song "Bad Romance" accompanied the models as they strut down the catwalk in McQueen's works of art..
I really think its amazing that labels especially high-end ones are doing this for the fashion community. Giving us the chance to see a fashion show right when it happens! I know, YouTube & all those other things will show it.. but its just a different feeling when your watching it live with Anna Wintor, all the other Vogue editors from around the world and millions of other people...