Here they come! And start saving up, because more then likley there
NOT
gonna be cheap..
Studded braclets, belts, head-bands, dresses and now boots! There about to come like hurricane katrina up in this b-atch and you better be ready to catch you some because everyones obivously going to want a pair like how can you resist!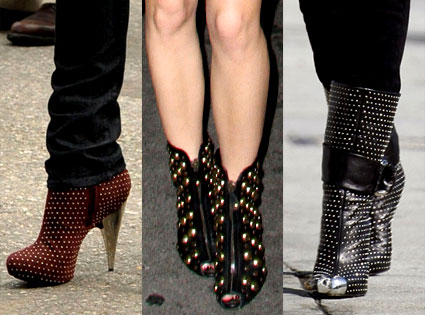 Random Girl, Mary-Ashley whatever & nicole all as you can see rock the studded boots and they rock them very very nice! My favorite have to be Mary-Ashley's ( i say mary ashley because i dont know which one it is gosh dammit)
Ariella Studded Christian Louboutin Boot
for just about
$1,000
give
or take
a couple hundred more you can own them to.
From what i assume studding has always been a trend but has just been taken heavy impact of now a days! Early notable sightings of studded goods definitely have to be the
Christian Louboutin x Rodarte
hells !!!
Oh and for all the men out there,
men dont worry, dont worry!!
Designers like
Dolce & Gabbana, Prada & Christian Louboutin
got you covered, they have your back and have added some studs to their shoe collections!! Check these out!
(image via http://hapsical.blogspot.com/)
On the right are beautiful studded Christian Louboutin boots & on the right are gorgeous in Prada!!