I JUST FELL IN LOVE WITH LOUIS VUITTON x STEVEN SPROUSE GRAFFITI TIGHTS
.. Anyways
Now-a-days the style of men is getting a little bit more..
wait im not going to say it because if you know me then you know i stand by my word, and that word being that i dont believe art belongs to any gender..
By this im saying that, i was goin to say the style of men is getting a little more feminine and as we know it has with sachels & boots & skinnier then ever jeans w/ 8 inch mohawks.. Anyways what i wanna say is that i dont believe that fahsion belongs to a gender, men & woman can where whatever they want !! I think
Jean Paul Gaultier
gave us a glimpse of what im trying to say:
(Click Here For More)
Anyways, as i was trying to say. Today male and female styles are conjoining more then ever and unity is bound to take place amongst the fashion world more now then ever and because of this i smell alot of crazy ass tights on crazy ass kids, boys &
MEN
!! I first saw Lady GaGa's
boy-toys
back-up dancers wearing fierce Black tights with from what i gathered were high top surpas and beaten up leather jackets & gloves with studded ends just like they came out of a crazy ass party in SoHo (which i love).. And then i saw a different version of it with
Phillipe Blond
:
which i utterly fell in Love with; this whole look was great!! And i love the Louis Vuitton tights
way to much
i want them in every color, blue, yellow, green, just throw it at me!! Personally i would change a couple things up a bit.. black boots, or no a pair of
YeeZy's
would defeinitly add some more pOw at the bottom section and the top just do a nice v-neck & Phillipe's jacket! Its a great look i love it..
Then a couple days ago when i discovered whom
Bryan Boy
was
(yeah i know.. where the F*** have i been)
i saw him in a pair of tights by
Michael Angel
which i honestly fell in love with at first sight: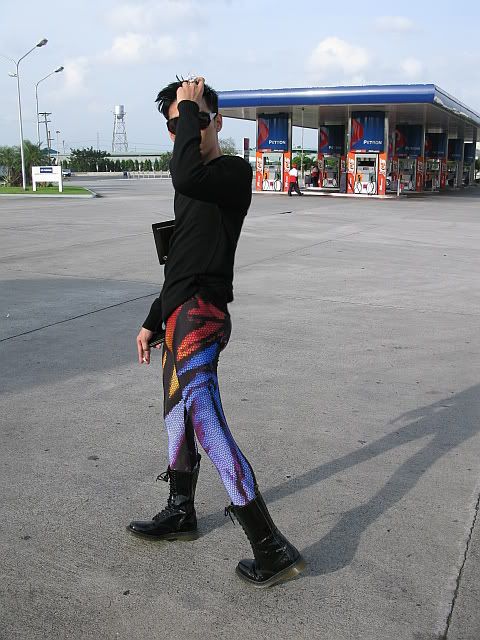 Pretty much from TOP to bottom; i love everything about this look
BB
defeinitly knows how to rock them tights!! I'm very indecisivene with wether or not i like the
Louis Vuitton
or
Michael Angel
.. But then again with the prints and the concepts of either i would say there just two totoally different themes. Whatever i'd still rock em!